The 8 Best Licensed Money Lenders in Singapore
Looking for the safest place to obtain a personal loan in Singapore? Confused about which is the best licensed money lender in Singapore?  We have just what you need. There are a bunch of licensed money lenders in Singapore that can play this role perfectly. These lenders have a lot to offer, including swift loan application processes, affordable loan rates, ethical debt recollection, and more. In this article, we have reviewed the 8 Best licensed money lenders in Singapore to ensure our readers take loans from reliable sources only. Our ranking is based on multiple factors such as experience, transparency, and loan specialty. So, let's get into it!

This is hands down, the best licensed lender for obtaining a personal loan in Singapore. Why, you ask? One, their rates are unbeatable. Gold star credit has a string of personal, business, and microloans that attract interest rates starting from 2.27% and low processing fees as well. Also, their repayment terms are very flexible. You can take up to 12 months to pay off your loan. And finally, Gold Star is famous for its swift service delivery. If you're looking for a lender that can hasten your loan acquisition process and help you beat financial emergencies, then choose them! The company is also equipped with professional financial advisors to assist you throughout the process to ensure you receive a solution tailored for you. When visiting physically, you can go to either of their two branches. The first Gold Star branch is in Toa Payoh Central and the second in Upper Serangoon Road. This is one of the few credit companies with multiple branches, which proves the wide reach of their services.

Without a doubt, Synergy is one of the most reputable licensed money lenders in Singapore. They're located to the West of Singapore, at Blk 447 Clementi Avenue 3. The company has built a good reputation through consistency, great customer service, and unrivalled financing options. Synergy Credit is licensed and operates under the laws and regulations provided by the Money Lenders Act and the Ministry of Law. Their processes are transparent, efficient, and super-fast to ensure you get the money you need when you need it. And the cherry on top is that they can offer an instant loan of up to 6 times your monthly salary. How amazing is that?
Also, note that many Singaporeans have fallen victim to loan scammers that impersonate Synergy Credit officials in a bid to rip them off. If anyone approaches you on Whatsapp or SMS claiming to be them, report them to the authorities as soon as possible.

The name Cash Direct is not a coincidence. This licensed money lending company measures up to its name by being a master in swift and direct money lending. Located in Vision Exchange, Jurong East, Cash Direct has the most elegant premises among all money lenders. The VIP design exudes a feeling of importance among their customers, which contributes to the shining reviews they get. Cash Direct is registered with the Registry of Moneylenders and operates with a Ministry of Law legal license. They're also one of the most loved-up money lenders, and this is reflected by their high customer satisfaction rates. Customers' reviews have it that the company is customer-friendly and offers unbeatable loan rates in the market.

This is another diversified licensed money lender in Singapore that you'll love. The most notable thing about Soon Seng is the central location of their offices. This puts them in a good position to serve Singaporeans from all over the country. By taking a glance at their website, the wide financing options will impose a magnetic effect on their services. From debt consolidation loans, medical loans, business loans, and even car loans, their diversity is a huge advantage. The company offers monetary solutions to both residents and non-residents in Singapore at amazing rates. However, it's important to note that Soon Seng Credit favors citizens and permanent residents when it comes to offering affordable loan rates.

Need a flexible repayment plan? Galaxy Credit is your go-to licensed money lender in Singapore. They offer repayment plans of up to 12 months. Additionally, Galaxy Credit offers top-notch customer service, unbelievably low interest rates, and financial solutions to suit every borrower. Their loan officials will assist you through the entire borrowing process. All operations of this moneylender, including interest rates and repayment schemes, are designed to adhere to regulations placed by the moneylender's act and rules. However, it's important to know that Galaxy Credit sits in the North of Singapore, at the heart of Ang Mo Kio. This area is known to be the most packed in the North – you'll expect to find many shops to visit there.

Got a worrying credit score? No worries. R2D Credit is a licensed money lender in Singapore that has the highest loan approval rates. In fact, R2D credit has the highest Google reviews in Yishun, and are the best recommended money lenders in that vicinity. Their model is friendly to borrowers of all financial status and credit scores. You won't even need a loan guarantor or any collateral. But despite their insanely impressive terms, R2D credit is licensed and operates under regulations given by the moneylenders' act to ensure customers receive timely and efficient financial services. The company offers everything from business loans, bridging loans, personal loans, debt consolidation loans, you name it. To start applying, visit their website, fill out their online form, and someone will reach out to you as soon as possible.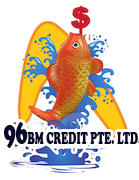 Another leading licensed money lender in Singapore, 96BM Credit is doing a tremendous job. They offer medical loans, personal loans, wedding loans, vacation loans, foreigner loans, business loans, etc. The company was established to provide affordable, reliable, and efficient credit services, and they continue to do that. Customer satisfaction and retention are a top priority for this company, making them one of the lending companies with the best reviews in their location. Their remarkable services have earned them features in media outlets including the Morning Star, Yahoo Finance, and Asia One. If you want to visit their office physically, Ubi Avenue is an industrial area, in which 96BM Credit has the highest reviews.

Though their name might mislead you, UK Credit is a licensed lender in Singapore. Located just three minutes away from Bedok MRT station, the most crowded area in the East, their location is surrounded by many facilities. Their seamless services and a wide variety of loans make them one of the best places for getting a fast personal loan in Singapore. This lending company offers rapid solutions and convenient financing options to its customers. Customers are guaranteed fast processing, Simple to meet requirements, and amazing repayment schemes. The company has ensured that interest rates and repayment plans are designed to meet the customers' needs rather than to exploit the customer. The best thing is that their services abide by the regulations of the money lenders act.